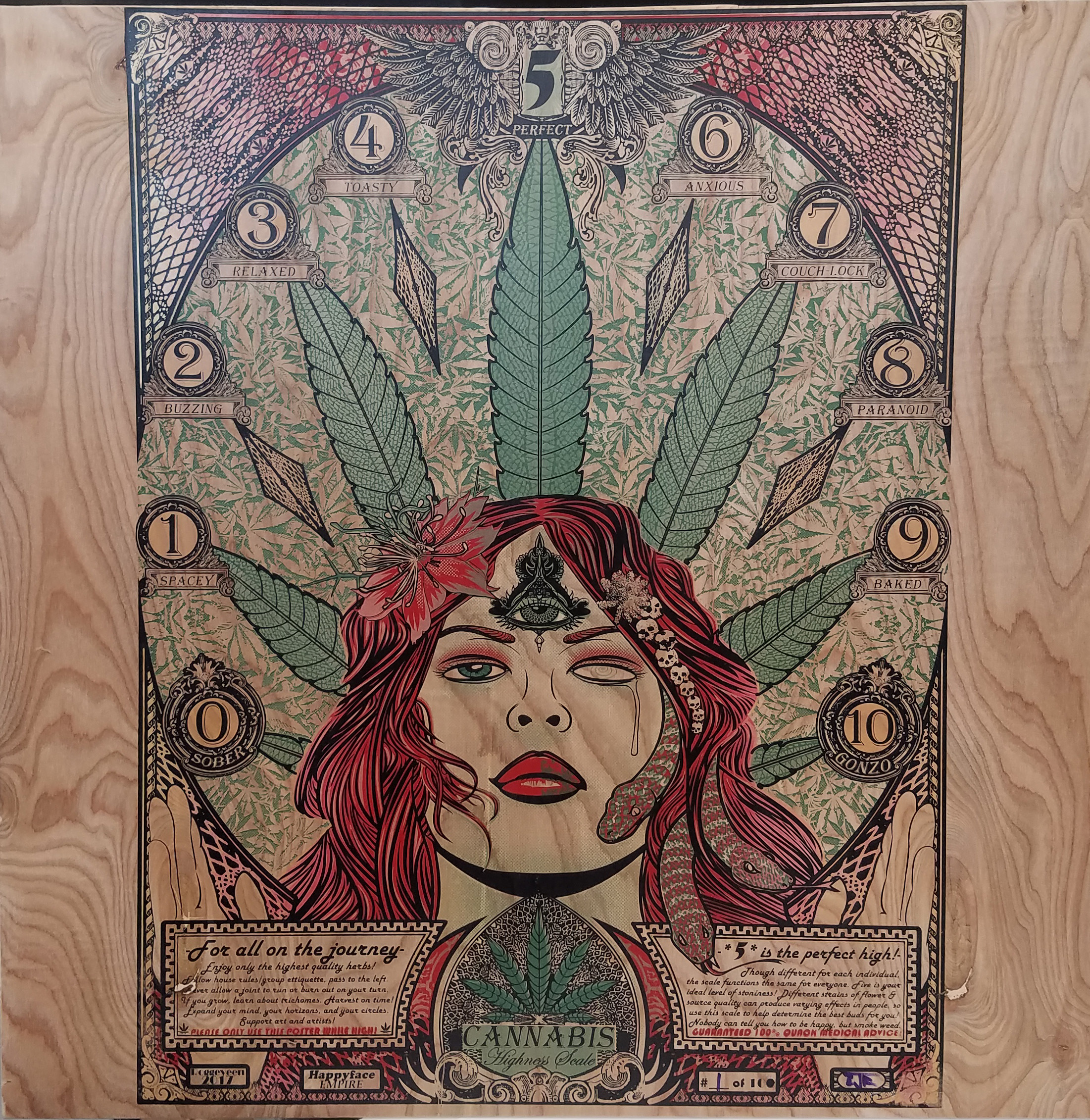 Happyface Empire prints
Thanks for choosing us for your wall! Everything we print is on high-quality materials with superior archival inks. All prints are limited edition and never reprinted, which we believe keeps us focused on creating new and unique artwork. Our runs are extremely small (usually 66 or less), but every stage of the process is handled in-house, from art design to screen exposure to finished print. Every piece we create is unique with our home-built equipment and silkscreen method, and we insure only the highest quality prints are made available for sale. At the end of every run we melt down the screens and start fresh!
9x9 MINIPOSTERS! Happyfish! Mayan Crops! MiniGoonies! Fett's Jet!
Four incredible designs, great on their own or as a set! While supplies last we are offering a small amount of UNCUT 18x18" posters with all four images! Shown images below are: Black Happyfish, Black Mayan Crops, Black MiniGoonies, Black Fett's Jet, uncut Black standard sheet, uncut Citrine with Black ink, uncut Antique Gold with Black ink, uncut rubber Blue, uncut Glamour Green with Black ink, uncut rubber Red, uncut Emerald Green, uncut textured Profit Green, uncut textured Cardinal Red, Metallic Gold with Green and Gold ink, Metallic Gold with Green and Red ink, Metallic Gold with Red and Green ink, Metallic Gold with Black and Green ink, Metallic Gold with Black Green and Red ink, Metallic Gold with Black and Green ink. (all prints contain at least 4 color layers) PRINTS DROPPING SOON IN OUR STORE!!
BLOOD DRIVE! Our new favorite SyFy network show around the shop, we had to do a limited-run special batch of prints for this masterpiece of mellifluent massacres! Our run is as eclectic as the fans of this grindhouse-style series, featuring the deadly, gnashing maw of Stagemaster Julian Slink in Black, Chrome and Bloody Red ink! Shiny! There are 66 prints in total (forever!), in eleven styles (in order below in the photos): 6 Rubber-textured Red, 6 Rubber-textured Red SPLATTERED, 6 Rubber-textured Black, 6 Rubber-textured Black SPLATTERED, 6 Silver, 6 Wealth textured, 6 Profit textured, 6 Techweave Red, 6 Techweave Black, 6 Gold Metallic, 6 Rainbow Foil. TO PURCHASE GO TO OUR STORE LINK ABOVE! $15.00 for most prints, $20.00 for Gold foil and Rainbow foil. $5.00 flat shipping rate.
GORE WITCHES! Our newest print is 5 incredible colors and a metallic interference blue overprint layer! The limited-run of 66 plus 6 gold, 6 foil and 6 wood is all there will ever be, so be sure to get the one you want before it's gone! So many amazing hidden details and metallic tricks, it's a fucking great print! Papers show in photos below are (in order): Rubber-textured Bordeaux Red, Rubber-textured Black, Rubber-textured Royal Blue, Textured Profit Green, Metallic Gold, and Rainbow Foil. PRINTS ARE AVAILABLE TO PURCHASE IN OUR STORE!
And now FINALLY available!! FIREBIRDS!
We have a variety of killer colors available on this limited run of 60! Contact us for questions and purchases.
If you are interested in a particular number, color, or edition we will photograph it and send the pictures at your request. Thank you for considering our work!
All art will be shipped quickly with professional care and padding in a sturdy 3" poster tube unless otherwise arranged. Posters are never rolled prior to shipping.
IMPORTANT NOTE: If purchasing more than one poster, contact us directly and we'll combine shipping! HappyfaceEmpire@gmail.com